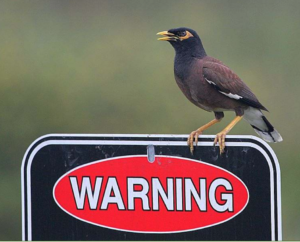 Far South Coast Birdwatchers has had a few reports of increasing pockets of Common (Indian) Mynas spreading into the Bega Valley after a welcome period of inactivity from the birds. This introduced species uses tree hollows for nest sites and competes aggressively for those hollows with native fauna species.
The birds usually live in family groups, spend time on the ground feeding and strutting about, are found around stock where grain is fed and take scraps and pickings from public areas. Most sightings have been from around farms and dairies.
The Common Myna Task Force has been successful in controlling the spread of these birds over recent years and would like to hear of any sightings so they can work with landholders to keep numbers at a minimum. Any sightings can to be reported to either Tony Jarman on 6492 1607 or to fscbirds@bigpond.com for attention.
To help you identify Common Mynas and the species they can be confused with, see photos and listen to Common Myna calls here.
Photo: Matt Gilfedder