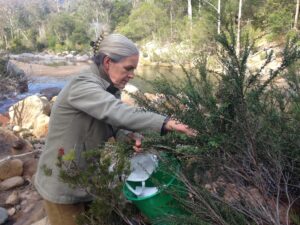 After more than 10 years as coordinator of The Far South Coast Landcare Community Seedbank, Karen Walker is retiring from the position and moving north to Narooma. Karen's work has meant that landholders and nurseries across the Bega Valley Shire have had access to local provenance seed, ensuring that we could continue to grow a broad range of species that are adapted to our local climate and conditions. Many of the revegetation projects across the shire over the last 10 years have used plants grown by seed that Karen collected, processed and stored. So when you look at all those lovely shelter belts, river corridors and wildlife habitat, think of Karen's great contribution.
Fortunately the Far South Coast Landcare Association has engaged two experienced people to carry on the work of the Seedbank. They are Merryn Carey and Jens Birchall.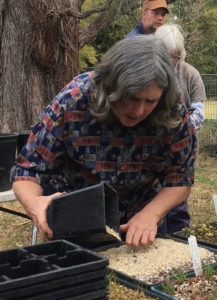 Merryn Carey will be known to many people though her plant nursery business, South Coast Flora, at Dignam's Creek. Merryn has been collecting and using local provenance seed for plant propagation over many years and has presented workshops for the CMN on Native Plant Propagation.
Jens Birchall has worked as a bush regeneration contractor and works crew supervisor throughout the Bega Valley over several years, so has a good understanding of local plant communities, plant identification and where and when to source seed.
Merryn and Jens are on the lookout for seed from a number of species, in short supply after the recent fires, and are keen to hear from you if you have any of these on your property, especially if you are having any clearing or tree removal works undertaken as this is a good opportunity to access seed that is often hard to reach: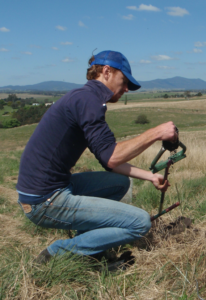 Any local eucalyptus species but especially Eucalyptus maidenii (Maiden's gum) and Eucalyptus baueriana (Bluebox)
Hakea macreana
Hakea eriantha
Native Quince – Alectryon subcinereus
Any local banksia species but especially Banksia marginata
If you're planning to revegetate your property and would like to grow your own plants using local provenance seed, or if you have local native seed on your property that you'd be happy for the Seedbank Coordinators to collect, send an email to fsclaseedbank@gmail.com or leave a message at the Far South Coast Landcare Office on 02 6494 7856.