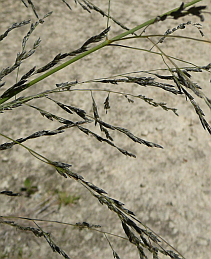 Do you need some help with controlling African Lovegrass? If so, drop in to the Far South Coast Landcare Office next week for the first 'Landcare Lounge Sessions'. The 'Sessions' provide a casual setting in which landholders can get the information and connections they need, over a cup of tea, at a time that suits them.
For the first 'Landcare Lounge Session' there will be two advisers on hand that have hands-on experience with African Lovegrass control on their properties. It's an opportunity to ask your questions and get the advice that suits your individual needs. There will also be a display with handouts and potted lovegrass plants (and grasses that could be mistaken for lovegrass), so you can leave feeling confident that you know your enemy.
When: Tuesday 28th November 1-2pm with Vivan Mawhinney from Candelo
           Wednesday 29th November 10-11am with Andrew Taylor from Springvale
Where: Far South Coast Landcare Office, 71 Auckland St, Bega (next door to Southern Farm Supplies)
If you can't make these times, drop-in between 9am-4pm on these days and Chris Post (Landcare Coordinator) and Wayne Schaefer (Farmers' Network) will be there to answer your questions and show you the displays.