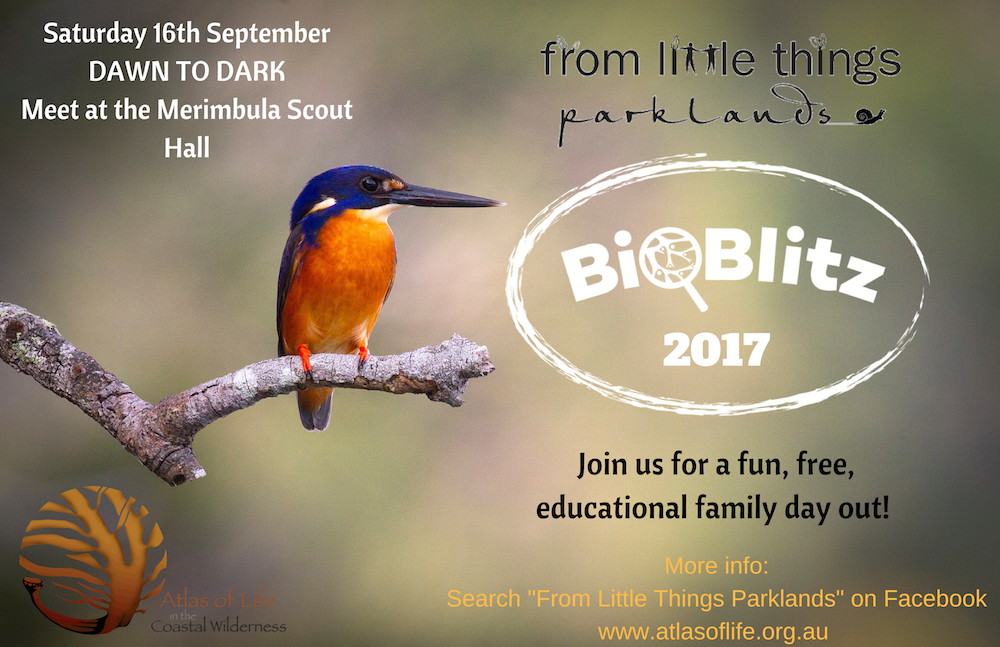 This year the Atlas of Life in the Coastal Wilderness' one day Bioblitz will be held at Merimbula Creek on Saturday 16 September, from 6am-8pm, partnering with the "from little things parklands" group which is establishing a community sustainability centre behind Club Sapphire. The bioblitz will help create the first species list of their land and nearby reference habitats.
Here is a message from the "from little things parklands" Facebook page:
Bioblitzes are festivals of science in nature, and attract scientists, naturalists and community members to work together to explore the biodiversity of an area and identify as many species of plants, animals, insects, fungi, and other organisms as possible within a short period of time.
What will be involved?
This year the Atlas of Life is partnering with the FLTP project team to coordinate a lively, family focused BioBlitz. It will take place from dawn till dark on Saturday September 16th. We will be exploring together around the FLTP site and through little known walks along Merimbula Creek. Bring your kayak to survey nature from the Creek and Lagoon – it's beautiful there. We will hunt for the largest number of species we can find, and use the NatureMapr App and cameras to record sightings. Guided surveys will take place throughout the day and will range from bird and flora walks to reptile hunts and searches for peacock spiders, waterway surveys and many other specialist activities. Exact times of specific surveys and activities will be released closer to the date.
Where will the From Little Things Parklands BioBlitz take place?
The FLTP BioBlitz 2017 will begin at our Basecamp of Merimbula Scout Hall, where there will be lots to see and do – activity boxes from the Australian Museum, an exhibition of the amazing winners of the Atlas photocomp 2016, chances to learn from the experts, the incredible Microbe microscope – bring your feathers and findings to see things at high magnification – and more to see from the Sapphire Coast Science Hub. From there, survey teams will set off to explore the area surrounding the FLTP site, which includes different zones up and down Merimbula Creek.
What to bring?
• Closed in shoes and sensible clothing
• Cameras, phones or tablets to take pictures
• Kayaks or stand up paddle boards if you are interested in the water surveys
• Sunscreen and a hat
• Water bottle
• Download the NatureMapr App on your smart phone
• A great attitude!