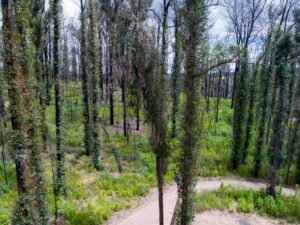 Up to $50,000 of funding is available for eligible local Landcare Groups, environment networks, and community groups, as part of $14million package for Landcare Led Bushfire Recovery Grants. The program is funded by the Australian Government Department of Agriculture, Water and the Environment.
The funding will support landcare bushfire recovery projects in seven government designated bushfire regions impacted by the Black Summer bushfires of 2019/2020, including The NSW South Coast. A broad range of activities can be funded by the program but there are tight deadlines and works must be completed by April 2022. Such activities include but are not limited to:
Pest/feral animal management/control
Weed management/control
Erosion control to protect waterways and repairing riparian areas
Artificial habitat/shelter (such as nest boxes and artificial hollows)
Revegetation and regeneration
Seed collection and propagation of native plant species
Fencing to protect sensitive or regenerating areas
Contractors, Flora and Fauna surveys, habitat mapping, data recording, citizen science and education
Training and workshops
Engaging with local communities and Indigenous land managers
Applications close June 16 2021. If you have ideas for some great projects and are thinking of applying, please contact the new Landcare Coordinator for the Far South Coast Landcare Association, Jess Bettanin on 0477 063 920 as soon as possible.