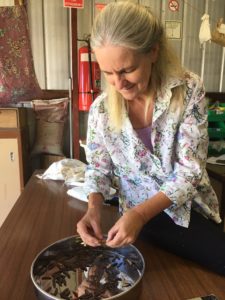 When most of us are winding down for a summer holiday, relaxing by the beach, and celebrating the new year, Karen Walker, coordinator of the Far South Coast Community Seedbank, gets really busy. This is usually the hottest couple of weeks of the year and this heat causes many of our native seeds to ripen. The window for collecting before the seed drops can be very short, so she packs her tools, buckets and bags and heads out to check on the places she knows across the Bega Valley and the Monaro where the seed she needs will be ready.
Karen's seed is used primarily by nurseries and some local landholders to grow local provenance native plants for many of the revegetation projects that happen across the Bega Valley and on the tablelands. So if you see any new shelterbelts, windbreaks and river corridors full of native plants, it's likely they came from seed that was once in the hands of Karen Walker.
One of the things Karen likes most about her job is being in tune with the rhythm of the seasons and staying aware of changes in nature. Seed collection is all about timing, reading the seasons, paying attention to what's happening around you and knowing the plants and where they grow. "I also love that my work office is the great outdoors". She gets pleasure from collecting unusual seed. This year she was excited to find and collect Acacia obliquinervia or Mountain hickory wattle from Brown Mountain for the first time. Her job satisfaction also comes from being able to contribute towards genetic conservation.
The hardest parts of the job are collecting in the heat and working when everyone else is on holidays and socialising. There are also a few hazards that come from working on steep slopes and in rocky country, encountering snakes, insect and tick bites and inhaling dust and fungal spores.
This summer has been a fairly good one for seed collection. The main varieties Karen collected were lots of different Acacias, Banksias, Dodonea (hopbush), Dianellas, Jacksonia, peas and Indigofera. Although it was good, the relatively cool weather with lots of moisture and humidity meant a slow start to the season. The rain also affected the more fluffy seed heads like Cassinias. Karen has only just collected Bursaria as there hadn't been enough sustained dry, hot days to ripen the seed and is still waiting to collect Lomatia, Tristaniopsis (watergum) and Angophora.
Kangaroo grass is the main grass Karen collects over summer. This year she used a hand propelled seed collector (see picture below) with rotating stiff brushes which can be set at different heights depending on the height of the seed heads. This works well when Karen finds pure stands of seed but can't be used when weed seeds are present. Karen said "Grasses are labour intensive to collect, with many picked stalk by stalk to keep the collections pure". Throughout autumn she will be collecting other grasses like red leg grass, weeping grass, and barbed wire grass, which all ripen later than kangaroo grass.
Most of the seed Karen collects come from roadsides, crown land and private properties with the permission of landholders.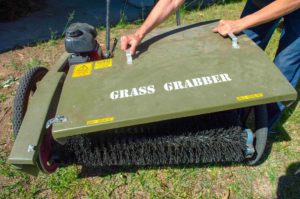 Once harvested, the seed is hung up in cloth and paper bags in a warm, dry, rodent-free area. This allows seed capsules to release their seed and also lets the seed dry out so it doesn't rot in storage. This can take one to two months, with woody capsules like eucalypts and hakeas taking a longer time. The seed is then processed to remove pods, capsules and other material using a series of large sieves and winnowing. It is then weighed and stored in the coolroom at 4 degrees Celsius where, depending on the species, it can remain viable for up to 100 years. Other seed by contrast is only viable for up to a year, like some seed from the daisy family (Asteraceae).
Karen has dedicated this season of collecting to Liz Clark who died in August last year. Liz established the Seedbank and built the coolroom that Karen still uses 20 years later. Liz's passion for looking after the native vegetation in our area and making sure we had access to local provenance seed continues to inspire Karen and many others who worked with Liz.
If you'd like to obtain seed from the Far South Coast Community Seedbank, contact Karen on 0408 479 269 or fsclaseedbank@gmail.com